Društvene i humanističke studije DHS (Social Sciences and Humanities Studies) is an international open access double blind peer-reviewed interdisciplinary scientific journal published by the Faculty of Humanities and Social Sciences in Tuzla (Bosnia and Herzegovina). We publish refereed original scientific research and review articles on both the fields of social sciences and the humanities. The call for papers is permanently open. If the manuscript successfully passes the review process, it will be published in the first upcoming issues. Authors will receive a peer review report no later than one month after receiving the manuscript.

ISSN: 2490-3604 (print) ● ISSN: 2490-3647 (online)             DOI: https://doi.org/10.51558/2490-3647.2023.8.2

The Journal is currently indexed in CEEOL, Index Copernicus International  World of Journals, Index Copernicus Journals Master List, Erih Plus, DOAJ, EBSCO, Slavic Humanities Index, MIAR,  ISI, OAJI, Google Scholar, OpenAIRE, Scilit, JournalTOCs and OCLC. It is also included in Electronic Journals Library of University of Regensburg. Printed editions are available in public libraries in Bosnia and Herzegovina. You can download all journal issues from Univerizitet u Tuzli - Časopis "DHS" or Časopis "DHS - Društvene i humanističke studije". 
The Journal welcomes contributions within the domains of philosophy, sociology, political science, psychology, linguistics and literature studies, media and communication studies, cultural studies, journalism studies, history, pedagogy and didactics, social work studies, and other academic disciplines, approaches and branches of social studies and humanities. It is an interdisciplinary oriented journal that aims at bringing together academics, researchers and practitioners concerned with addressing, analyzing and producing relevant knowledge, public good and emancipatory social transformation. We encourage the submission of manuscripts that advance theoretical, methodological, and/or empirical knowledge of a wide range ofissues relevant to the fields of social sciences and the humanities. Our mission is to provide an inclusive international forum for discussion, reflection and critique on the publicly notable issues and emerging questions, trends, researches, methodsand concepts in the fields of social sciences and the humanities. The journal is published in both online and printed versions two times per year. Additionally, wewill publish one or two special thematic issues per year, featuring selected research papers from conferences hosted by Faculty. Call for paper is permanently open.
Submission of a manuscript will be held to imply that it contains original unpublished work, and is not being submitted for publication elsewhere at the same time. The papers submitted for publication must follow the general scientific standards and defined "Paper Guidelines". We publish scientific articles that are written in Bosnian, Croatian, English, German, Macedonian, Montenegrin, Serbian and Turkish language. Manuscripts intended for publication must be submitted in full paper electronically via online submission system (for more information, please contact technical support). Social Sciences and Humanities Studies uses an anonymous, double-blind peer-review processin which the identity of both the reviewer and author are respectfully concealed from both parties. Articles may be rejected without review if the Editor or Editorial Board considers the article obviously not suitable for publication.
There are no fees payable to submit or publish in this journal. As an open access journal, all articles in Social Sciences and Humanities Studies are freely available to read, download and share immediately on publication in accordance with the Berlin Declaration and the BOAI definition of open access. Social Sciences and Humanities Studies is under the CC (Creative Commons) license.

Editor-in-Chief: Vedad Spahić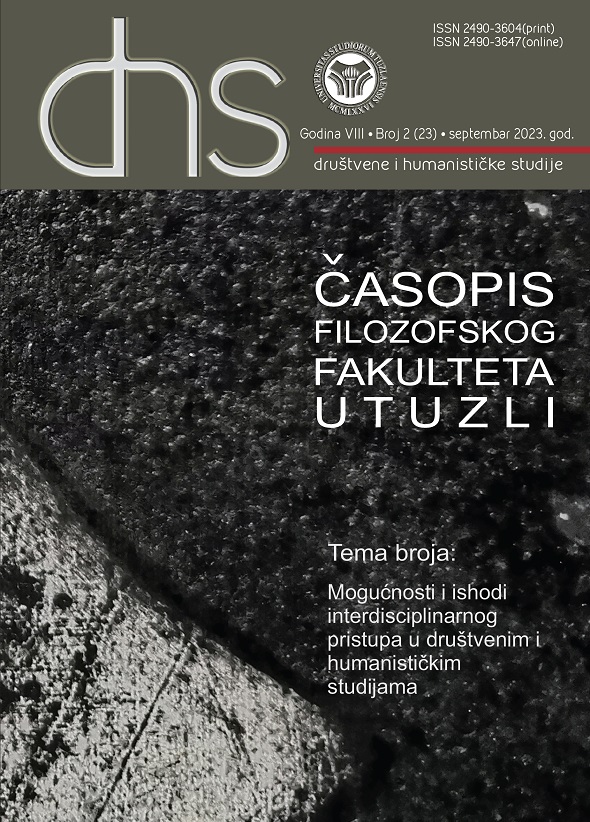 Vol 8, No 2(23) (2023): Društvene i humanističke studije DHS
Table of Contents
Articles
| | | |
| --- | --- | --- |
| | Nehrudin Rebihić, Mirza Mahmutović | 15-28 |
| | | |
| --- | --- | --- |
| | Vedad Muharemović, Tomislav Tadić | 29-46 |
| | | |
| --- | --- | --- |
| | Mirsad Turanović, Amina Ajdinović Mehović | 83-102 |
| | | |
| --- | --- | --- |
| | Azra Hodžić-Čavkić | 103-128 |
| | | |
| --- | --- | --- |
| | Senadin Musabegović | 129-172 |
| | | |
| --- | --- | --- |
| | Marija Đaković, Emina Berbić Kolar, Ksenija Romstein | 191-200 |
| | | |
| --- | --- | --- |
| | Svetlana Lazić, Mirjana Matović, Sanja Maričić Mesarović | 201-220 |
| | | |
| --- | --- | --- |
| | Aida Džiho-Šator, Amela Džiho-Hidović | 295-314 |
| | | |
| --- | --- | --- |
| | Milena Škobo, Vedran Petričević | 317-336 |
| | | |
| --- | --- | --- |
| | Boris Balta, Maja Lasić, Neven Buzuk | 339-356 |
| | | |
| --- | --- | --- |
| | Gorica Vuksanović, Olivera Kalajdžić, Ivana Zečević | 373-390 |
| | | |
| --- | --- | --- |
| | Nife Elizabeth Ogunbodede | 417-440 |
| | | |
| --- | --- | --- |
| | Amina Smajović, Belma Alić Ramić, Edina Nikšić Rebihić | 481-500 |
| | | |
| --- | --- | --- |
| | Vesna Minić, Snežana Perišić | 501-522 |
| | | |
| --- | --- | --- |
| | Isidora Korać, Jelena Đermanov | 523-540 |
| | | |
| --- | --- | --- |
| | Biljana Jeremić, Zagorka Markov, Lidija Nikolić | 541-556 |
| | | |
| --- | --- | --- |
| | Sanja Živanović, Ranka Perućica, Sonja Kaurin, Bojana Vuković, Olivera Kalajdžić, Slađana Ćalasan | 557-578 |
| | | |
| --- | --- | --- |
| | Saša Lj. Stepanović, Ana Grbić | 579-600 |
| | | |
| --- | --- | --- |
| | Danijela Vasilijević, Biljana Alavanja, Hadži Živorad Milenović | 601-624 |
| | | |
| --- | --- | --- |
| | Biljana Smailagic | 625-638 |
| | | |
| --- | --- | --- |
| | Jelena Krulj, Emilija Marković, Ivana Simijonović | 655-666 |
| | | |
| --- | --- | --- |
| | Nermin Mulaosmanović | 669-690 |
| | | |
| --- | --- | --- |
| | Enes Osmančević, Tahani Komarica | 693-710 |
| | | |
| --- | --- | --- |
| | Irena Praskač-Salčin, Sabira Gadžo-Šašić | 711-728 |
| | | |
| --- | --- | --- |
| | Vesna Šućur-Janjetović, Andrea Rakanović Radonjić | 749-770 |
| | | |
| --- | --- | --- |
| | Andrea Rakanović Radonjić | 771-790 |
| | | |
| --- | --- | --- |
| | Dragana Šćepović, Ljubo Lepir, Vesna Šućur Janjetović | 791-810 |
Book Review
ZNAČAJAN PRILOG BOSNISTICI KOJI JE PROŠAO ISPOD RADARA OVDAŠNJE KNJIŽEVNE KRITIKE (Robert Hodel, Andrić i Selimović: Forme aktuelnosti, Dobra knjiga, Sarajevo, 2011)

Ikbal Smajlović

815-822
KAKO JE MULTIKULTURALNO SARAJEVO PREŽIVJELO RAT IAKO MNOGI NJEGOVI GRAĐANI NISU? (Emily Greble, Sarajevo 1941–1945. – Muslimani, kršćani i Jevreji u Hitlerovoj Evropi, University press, Sarajevo, 2021)

Omer Hamzić

823-830
USMENA POEZIJA KAO MEDIJ KULTURALNOG PAMĆENJA BOŠNJAKA (Sead Šemsović, Usmena poezija Bošnjaka, Slovo bosansko, Sarajevo, 2021)

Ibnel Ramić

831-838
SLOŽENOST CRKVENO-DRŽAVNIH ODNOSA U UVJETIMA VJERSKE, NACIONALNE I POLITIČKE HETEROGENOSTI [Krize, sukobi i solidarnost u perspektivi crkvene povijesti (od srednjega vijeka do suvremenosti), Zbornik radova s V. kongresa hrvatskih povjesničara. Zadar, 6.–9. listopada 2016. godine, Ana Biočić (ur.), Katolički bogoslovni fakultet Sveučilišta u Zagrebu – Kršćanska sadašnjost, Zagreb, 2021]

Nikola Čiča

839-846
DRUŠTVENI ZNAČAJ FILMA I FILM KAO PREGNANTNA SOCIOLOŠKA TEMA [Nemanja Đukić (ur.), Film i identitet: Istraživanje društveno-političke upotrebe filma, Univerzitet u Banjoj Luci - Fakultet političkih nauka, Banja Luka, 2021]

Stefan Elezović

847-850
TEMELJITO ISTRAŽIVANJE DINASTIČKOG IDENTITETA SLAVNE BOSANSKE VLADARSKE OBITELJI (Emir O. Filipović, Kotromanići: Stvaranje i oblikovanje dinastičkog identiteta u srednjovjekovnoj Bosni, Univerzitet u Sarajevu - Filozofski fakultet, Sarajevo, 2022)

Ibrahim Kabil

851-858
INSPEKCIJSKI NADZOR U JAVNOJ UPRAVI: VRSTE, FUNKCIJE I SANKCIJE (Emir Mehmedović i Selma Stojanović, Inspekcije i inspekcijski nadzor, organizacija, nadležnost, postupak, Univerzitet u Sarajevu – Fakultet za upravu, 2022)

Rijad Delić

859-864
ANTICIPATIVNA I UVJERLJIVA APOLOGIJA KAPITALIZMA [Ayn Rand, Kapitalizam: nepoznati ideal, (prev. Damir Ovčina), Impruva, Sarajevo, 2022]

Zijad Džafić

865-868
PROTIV NORMALIZACIJE NASILJA: IZAZOVI ZA TRANSFORMATIVNU PROIZVODNJU ZNANJA NA BOSANSKOHERCEGOVAČKIM UNIVERZITETIMA (Amer Osmić, Lejla Osmić, Sanela Šadić, Amila Ždralović, Enita Čustović, Nasilje u porodici i rodno zasnovano nasilje u visokom obrazovanju – između teorije i prakse, Fakultet političkih nauka – Univerzitet u Sarajevu, Sarajevo, 2022)

Jasmina Husanović

869-874
KARIKA KOJA JE NEDOSTAJALA U VALORIZACIJI ŽIVOTA I DJELA ISAKA SAMOKOVLIJE (Husref Tahirović, Dr. Isak Samokovlija – Život u bijelom mantilu, Akademija nauka i umjetnosti Bosne i Hercegovine, Sarajevo, 2022)

Mirsad Hodžić

875-882
POUZDAN NAUČNI ORIJENTIR U DINAMIČNIM BOSANSKOHERCEGOVAČKIM TOKOVIMA KONTEMPORARNOG DRUŠTVENOG RAZVOJA [Adnan Džafić, Jusuf Žiga, Šaćir Filandra (ur.) Bosanskohercegovačko društvo i suvremenost – Prilozi za sociologiju bosanskohercegovačkog društva, Univerzitet u Sarajevu - Fakultet političkih nauka, 2023]

Senad Arnaut

883-886
NOVO KNJIŽEVNOKRITIČKO I IMAGOLOŠKO TUMAČENJE OSTAVŠTINE JAGODE TRUHELKE (Katarina Ivon, Jagoda Truhelka: Poetika na margini, Naklada Ljevak, Zagreb, 2023)

Ajla Demiragić

887-892
REFORMA OBRAZOVANJA: NAŠ PUT UČENJA (Hajrudin Neradin, Edita Fajić, Alina Karović-Rahimić, Monika Lika i Eldina Dizdar, Nastavni kurikulum, ishodi i strategije za prvu trijadu osnovne škole, Bosanska knjiga, Sarajevo, 2023)

Lejla Kafedžić

893-896
FUNKCIONALNO POVEZANA CJELINA TEORIJSKOG RAZUMIJEVANJA I PRAKTIČNIH ASPEKATA FORENZIČKE REVIZIJE I FINANSIJSKIH PREVARA (Edin Glogić, Erdin Hasanbegović, Semina Škandro, Forenzička revizija i finansijske prevare, FINRA, Tuzla, 2023)

Adem Azapagić

897-902
(DIS)KONTINUITETI POLITIKA ŽALJENJA U IME POLITIKA PROMJENA (Zlatko Kramarić, (Dis)kontinuiteti ili ponavljanje povijesti, Meandarmedia, Zagreb, 2023)

Šeherzada Džafić

903-908
VREMEPLOV KROZ HISTORIJU OSMANSKE MINIJATURE I DEMISTIFIKACIJA TABUA O FIGURALNOM SLIKARSTVU U ISLAMSKIM KULTURAMA (Putovanje boja kroz vrijeme: izložba u čast 20 godina Odsjeka za turski jezik i književnost, Filozofski fakultet u Tuzli, maj 2023)

Haris Dervišević

909-912